SMART CONTROL
Today's technology offers us access to so many things with the touch of a button. Our Smart Control technology gives you access to cameras, your alarm system, thermostat and lights all with one simple app!
Baby sleeping? Coming home late? No problem our smart control features allow you to arm and disarm your alarm system with the touch of a button, no more walking into a loud house when you can turn it off in the drive way.
You deserve the latest technology and the best security for your home and family, call us today to find out how you can start living with smart control.
Power Outage Protection

SMS Text & E-mail Alerts

23 Years of Service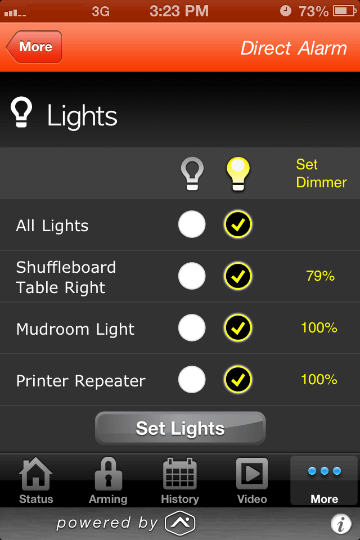 Smash proof technology

On-the-go Mobile control

24/7 Professional Monitoring
SMART CONTROL FOR YOUR HOME AND OFFICE
Direct Alarm's cutting-edge interactive security systems offer you much more than just security; it is life made easier and more convenient.
Lighting Control
There are several different types of light control modules including In-wall Switches, In-wall Dimmers, In-wall Recepticals, Plug-in Lamp Modules, Plug-in Appliance Modules, and more.
Image Sensor
The Image Sensor is a breakthrough new product that gives you an instant look into your property.  It combines a traditional motion sensor, an integrated still camera, and interactive controls so you can see what is happening when you're not there.
Thermostat Control
Whether you use them in your home, your get-away in the woods, your lake house, beach house, or your second home; remote controllable thermostats are sure to save you energy and add convenience to your life.
3G
DIGITAL
A 3G/4G cellular alarm communicator is used as a secure path of communication between your security system and our Monitoring Station.  3G/4G cellular communicator is a powerful addition to any security system.
Want no worries
about your security?
Contact us and get impenetrable protection!
Download Our Service Brochures
The brochure contains all technical and legal details about bodyguard service and guarantee.